COMPREHENSIVE  RESPONSIVE WEBSITES FOR FLOORING RETAILERS
First impressions can either make or break a sale. With many potential customers searching online for flooring, it is essential that your business conveys a professional image online. A well designed website speaks volumes about the quality of service and products that customers can expect from your flooring business.
With IFDA, we build a fully customized website. We have relationships with the manufacturers you do business with, so we have all the graphics, logos and copy points at our finger tips.
You get EVERYTHING listed below with our program.
Responsive Website Analytics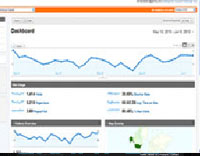 IFDA utilizes analytics to monitor SEO rankings and website visitor behavior trends for our website customers. Ongoing website analytics provide measurable results that arm your flooring business with key information about your target market. Based on findings, content and design adjustments can be made as needed to ensure that your flooring store website continues to perform at an optimal level over the long-term.
Monthly Responsive Website Maintenance
Our program is turnkey! We do it ALL. You don't have to learn to maintain your site through complicated portals or dashboards. One phone call and your request is normally taken care of within 12 hours.